An overview of summer trends 2016
For the summer season, long hair and semi-long hair is in. Hair becomes a fashion accessory; different looks are created with the same haircut. The Bardot inspiration is very present. Inspired from the 60's, we find a cool blond that is often worn with a lot of volume on top of the head and wavy contours on the face.
My favorite product to create this beach look: try Beach Waves by L'Oréal Professionnel.
---
Curly hair adopts a grunge look this season. We feel the influence of the 70's in this look. The hair brush against the shoulders and a long fringe gives this look all its style. The secret to beautiful texture for curly hair is hydration.
Try Siren Waves from L'Oréal Professionnel.
---
The Parisian. A false natural style with a casual look. The hair is worn long and wavy with a fuzzy fringe.
---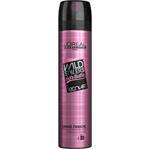 My favorite this season: the Wob.
This cut, popularized in Quebec by Mariepier Morin, is cut at the collarbone. It is worn wavy, parted in the center and without apparent gradation. The hair should be thinned out to get a nice flow. The Wob is so versatile, it adapts to all types of faces and morphology. It is easy to comb and has the advantage of being easy to tie up on bad hair days.
Quick styling tip for the next day, use Savage Panache to ruffle and restore volume to your hair.
---